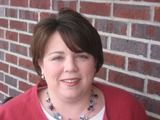 I've never really been afraid to get older. Sure, turning 35 made me pause a little bit, but I've always vowed to "gray gracefully." A trip to my doctor's office shortly after my 39th birthday last August made me take a good, long look at what "gracefully" means.
The appointment started out with my blood pressure registering 150/104. And that was the average of the five that they took. It ended with my doctor handing me prescriptions for five medications, with instructions to also take an over-the-counter med on a daily basis. I had just turned 39 years old and I had (still do) high blood pressure, high bad cholesterol, low good cholesterol, Type 2 diabetes and a potentially precancerous condition called Barrett's esophagus.
"Is this aging with grace," I had to ask myself? Though I was pretty sure the answer was no, I did little more than fill the prescriptions and wonder if I'd already lived half my life.
A couple of months later, a friend handed me an article from the
Indianapolis Star
telling about a heart healthy makeover being sponsored by the American Heart Association. I figured I had nothing to lose and several years of living to gain, so I applied. For the crazy story of my not so patient or graceful waiting to hear if I'd been chosen, click
here
.
Once I learned that I'd been chosen, my first thought was "Yes!" My second thought was "what have I done?"
Fear
was definitely in my vocabulary.
Now, here I am. Not only starting a new calendar year, but also a new life. A life where I am choosing to take charge of my health; where I am acknowledging that to best take care of my family, I have to take care of myself. It still feels like a scary proposal, but more than that, it feels empowering.
Perhaps graying gracefully isn't so much about youth or age as it is about taking charge of my own health and not being defined by the unhealthy me that has been around for so long.
If you're ready to take charge of your own health, please join me and my fellow Better U challengers. Click
here
to learn more about the Better U challenge. And please, come back here to let us know how you're doing. Together, we can go red for women -- ourselves included.