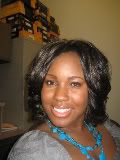 You know it's really funny how when you go about making positive consistent changes in your lifestyle how your body and your mind truly starts to respond. It's A Beautiful Thing :)
Hey Gals, how we doing out there? You maintaining?? I know it's a journey but to know that you are in it to win it has got to be more rewarding than anything. This week has had its challenges but I can say that officially I am a couple of days shy of being in the Go Red BetterU for 1 month and counting and in week 3 of my personal training. It's been a ride so far, but definitely a ride well worth it :)
So you wanna here something funny??
So one of my main obstacles going into this, was remaining consistent in my healthy eating habits and working out. Well on my behalf, I am pleased to report for the past three weeks, I have been consistently working out 6 days a week giving myself one rest day a week and ONE cheat MEAL (NOT CHEAT DAY) a week. It's a nice little hiatus I like to give myself brief but effective, that really works for me :)
SO... for anyone that knows me they know that one of my passions and favorite past times is to go salsa dancing with my hubby.. (Great cardio too.. if I might add). So last Saturday we had a date night and decided to head out for a lil SALSA FEVER!! We were salsa dancing enjoying each other's company and the atmosphere, and then MY SHOE FALLS OFF in the middle of the dance floor, I kind of shrug it off as a random fluke, and then it happens again!!!!!!!!!!!!!!!!
With a raised eyebrow my hubby asked "you ok??" I'm thinking yea I'm good, but why do I seem to not be able to keep my shoes on during the simplest turns??? After sitting back down full of frustration, Larry (my husband) informs me that when you start losing weight and toning up and slimming down your feet can also be affected.
WHO WOULD OF THUNK IT??? MY BODY LOOSES INCHES FROM LOOSING WEIGHT AND MY FEET CAN TOO!! WOW WHAT A REVELATION!!!
So I got a chance to speak to my personal trainer in reference to this phenomenon and she confirmed it... umm can we say SHOCKED!!
I'm even noticing that half the things I used to crave I rarely miss or think about anymore, my mind has went from "okay I want it so I will eat it", to "UMM I don't think so, not eating that it's not my cheat meal, and I've been working TOO HARD to let my hard work go to waste!!
LOL.. You would be surprised how you give a second thought to eating crappy stuff knowing that you are going to have to face it in the gym the next day.
So overall, I am noticing that I really am making the mental transition as well as the physical transition to the healthier better ME!! Even small things I'm noticing like me feet being affected by my weight loss, to an even stronger will power than before... I CAN SAY I AM WELL ON MY WAY AND LOVING EVERY MOMENT OF IT!!
Until then, STAY ENCOURAGED.. IF I CAN DO IT YOU CAN TOO!!
From one HEART to another,
Dee