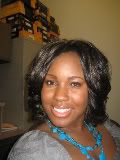 WOW!! I truly can't believe it.. Today marks exactly 6 weeks that I have been working with my amazing personal trainer at Lifetime Fitness Kara Wagner. That's 6 weeks of every week getting a new workout hammering it out two times a week, followed by 4-6 days of cardio, increasing water intake, and food and portion monitoring. WHEW!!
Even though before this Go Red BetterU program, I never could really say that I was able to find the will power before to consistently make working out a priority for more than 3-4 days in row... and then all it took was ONE bad day and ... whelp... the rest was history!! And it was back to square one of frustration, disappointment, doubt, and defeat.
Now, I can share the testimony of since Jan 4, 2010 the first launch day of Go Red BetterU, I have managed to find the inner me who over the course of a month and a half (6 weeks) that actually enjoys working out, a person that has actually addressed her emotional eating within herself and insisted to channel it into positive energy, and a person who will tell anyone that she has truly been the better for it.
Of course, let me be clear there is NO MAGIC PILL. Even though I have learned when and how to let myself indulge in the small pleasures in life we call food, but in the great words of Kara my personal trainer "REMEMBER, YOU ONLY GET OUT AS MUCH AS YOU PUT IN". And in my case it was a lot of hard work. (Laughing..) I can remember on several occasions between working out with Kara and working out on my own, wanting to scream "ARE YOU FREAKING KIDDING ME!! OMG!!" But I was determined not to cry and not to complain, and that if I wanted it bad enough, darn it I was going to making it happen for myself, and pushed through the pain, sweat, and fatigue.
Oh My Goodness, and don't even let me get on the battle of the bathroom scale, I had gained a mild obsession with weighing myself everyday of the week, not necessarily for the hopes of a miracle, but just to see if my body happen to notice just how much work I was putting it through, and maybe I would achieve new numbers with every adjustment.
A valuable lesson that I had to learn throughout this process is that the numbers on the scale are NOT the final word, for the simple fact when losing weight it is important to include weight training so that when you do loose the weight, you are not left with a flabby undefined body. So as you break down the fat and build it back up with muscle you body burns fat faster, your metabolism increases and you start noticing the inches come down, definition goes up, and fat falls off. And muscle weighs more than fat, so if the numbers aren't dropping on the scale as you may have hoped, not all is lost, you are building muscle and definition and you are on the right track!!
This is where I am right now, even though I am still working towards many of my goals through my efforts I have seen great results in my body, my weight, my stamina, and my confidence. I have learned to make long term goals, but at the same time make short term goals as well, so that I can celebrate in the small successes, as I work towards the larger ones. Being able to acknowledge progress in all forms is what helped me most. Not allowing my body's own pace discourage me, but more or less encourage me to continue pressing forward because I know that I can expect results.
So as I digress, I have some very exciting news to share from my personal trainer today as we did my (6 weeks) body composition. After working very hard for the last month and a half, from the day I started with the trainer (Jan 18)
My body fat percentage has went from 39.2% to 35.93% putting me at a total loss of 3.27% of body fat lost in a month in a half!!
Kara explained that I had did a lot better than she could have hoped, and for the amount of time I've been working on it, getting down to 2% would have been doing really good... AND I EXCEEDED THAT!! I could not have been any happier, and that just goes to show that HARD WORK DOES AND WILL PAY OFF!!
CONTINUE TO STAY ENCOURAGED.. AND WHATEVER YOU DO KEEP MOVING!!
Dee