Thanks for the crack-of-dawn workout today. I'm sorry you had a cold. Maybe all the congestion in your head kept you from being able to hear my moaning as I attempted 24 ab crunches with my feet up in the air. I am typing this with a pencil held in my teeth because my arms are aching from the 60 push ups -- or was it the 72 dead lifts?
I am
so
sorry that I was MIA from the gym last week. I think the snow made me get in touch with my inner bear and go into hibernation mode. But thanks to your encouragement (read: guilt trip) and my desire to be smokin' hot (ok, I'll settle for mildly warm) at the Go Red for Women luncheon on February 26, I left Lifetime Fitness this morning re-dedicated to the cause of my own physical fitness.
And it was all going well until the doorbell rang tonight. The neighbor girl -- the cute, sweet little girl with curly brown hair and glasses -- was there to deliver my Girl Scout cookies. Girl Scout cookies?! Acccckkk! (Which reminds me that I ordered from two other Girl Scouts as well).
I admit to caving, just a little (to the tune of 3 Thin Mints and 2 Lemon Chalet Cremes). But it got me thinking. Could you come up with a conversion table of Girl Scout cookies to workout reps? You know, something like 2 Thin Mints = 6 walking lunges? Maybe that would be enough to scare me onto the straight and narrow.
Sincerely,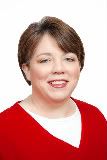 Amy Magan
PS -- I'll bring you a box of Girl Scout cookies at the gym tomorrow. That would be one calorie-free way to get rid of them!