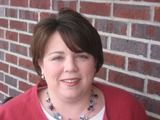 Ever since I found out that I'd been selected as one of the Go Red Better U challengers, I've been most excited about the opportunity to work with a personal trainer. So when we received the news that we'd be working with trainers from
Life Time Fitness
in Castleton, I was pumped.
That is until Friday morning as I was driving to Life Time to meet with the trainer Kara. I could feel my heart beating a little faster at the thought of stepping onto the workout floor with a multitude of treadmills, elliptical machines, and stairclimbers and people who actually know how to use them. As I pulled into the parking lot, my palms got sweaty anticipating hard bodies in perfectly coordinated workout wear. When I walked into the building, I worried that my Vera Bradley bag would give me away as an exercise newbie or if that message wouldn't be clear until I actually asked my body to perform.
First, let me say that Life Time is a gorgeous facility -- spa/salon, restaurant, lap pool, traditional pool, hot tubs, gymnasium, cardio floor, massage rooms. If I ever had to choose to be snowed in somewhere, this place would not be a bad choice.
Second, despite the fact that she is fit and blonde and upbeat -- all things that can easily make me dislike a person -- Kara was terrific. She gave me a tour of the building, asked me to complete a profile of my current health and my goals and then discussed my answers with me. She talked about goal setting, nutrition, and body composition (how much of the body is made up of muscle vs. fat) Did you know that just sitting around, one pound of lean muscle burns 40-50 calories/day while one pound of fat only burns 3-5 calories a day?!
Soon enough though, the time for talk was over and Kara led me to a treadmill for the first part of my fitness assessment. I panicked a little when she set the machine for 3.4 miles per hour with a 5% incline, but I figured if I could do 15+ minutes on the elliptical, I could manage 5 minutes on the treadmill. I wanted to impress Kara with how fit I am despite appearances (delusion is hard to shake), so I struck up a conversation with her as the belt on the machine began to roll. That lasted about 3 minutes. By the end of 5 minutes, I wasn't talking to anyone except the voice in my head that was asking when it would be over.
I made it, with a heart rate about 15-20 points higher than optimal and a VO max (see Kimila's post
"Paradigm Shift"
below) that registered "extremely low." However, neither of those things led Kara to show me the door. Instead she was encouraging and assured me both of those things can change with some hard work.
The weight lifting test wasn't too bad, the flexibility measurement OK and the part where they pinch your body fat was as emotionally uncomfortable as always. The one bright spot in my fitness assessment was the fact that I did 23 push-ups (yes, the girl kind) in 60 seconds. My arms are still angry with me about that.
When the assessment was over, Kara gave me a printout of all my scores -- my 39-year-old body is actually behaving as though it's 55! She explained how working with the Life Time trainers over the next three months will help me improve my body composition, cardiovascular health, flexibility and strength. (We get a membership until the end of the challenge! Woohoo! Thank you Life Time!)
After I changed back into my street clothes and headed to my car, it struck me that I didn't recall what anyone was wearing or whether or not the person on the treadmill next to me was a hard body. What I did recall was that I watched a bit of an aquafit class I'd like to try, that the group aerobics class looked like fun and that no one seemed one bit concerned that I was wearing an old t-shirt.
I guess all that anxiety was for naught, except for maybe, hopefully, burning a few calories!