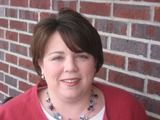 Today -- for the second day in a row, my alarm clock did not go off at 5:30am. No matter. I said I was going to exercise in the morning and I meant it. So, I headed downstairs, greeted
Denzel
(my elliptical), popped a DVD into the player (Little Mermaid this morning, must find some new selections) and got started.
I've been consistently using the elliptical for about month now. I'm up to 16 minutes at a time, monumental for me though small potatoes to someone like my skinny sister who can exercise for 60 minutes without needing to call for oxygen.
Then why is it still so hard?! I'm not getting breathless, which is good. But dang! Do my legs hurt! Maybe I'm just wimpy? Could be. But I pushed on, even trying to sing with Ariel once without much success. I've got my sights set on 20 minutes; maybe by this time next week I'll be able to do that. Baby steps, I'm telling myself.
I wonder if I'll ever be one of those people who loves to exercise? Maybe, maybe not. But I'm hoping that I'll love what it's doing for my body.
Did you get some activity in today? Do you love it or just love what it does for you?