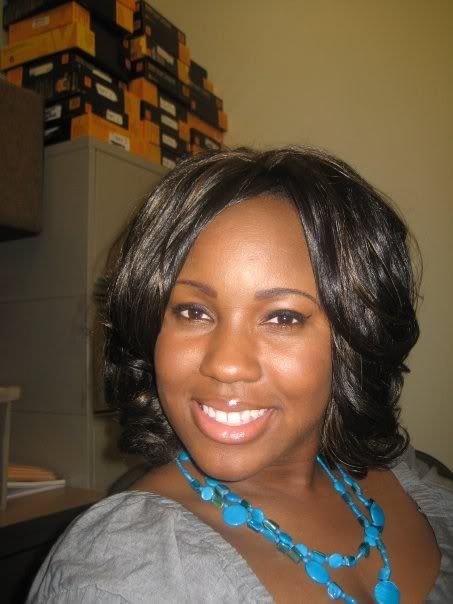 Hello All,
As I embark upon this journey I plan to be open and honest with you about my every struggle, temptation, and triumph.
All my life I characterized myself as being short, dumpy, half the time feeling pretty frumpy and the victim of bad genes. At 5'2 and 26 years old I am at the heaviest I've ever been... Hello My Name is Dee.
Generally I am a pretty happy person, I love to live and laugh but inwardly I have struggled with a reality that seems to only get worse as I age, and all I can think in the back of my mind are my mother's words of wisdom "It's important to gain control of your weight now because as you get older it only gets harder."
hmmm... yea that was 10 years ago and in that 10 years the weight has seem to creep up a little higher here and a little higher there.
So at age 26 at that rate, I hate to see where my weight might end up at 30!! SO I'M TAKING ACTION NOW!! Trying to take action and make up for lost time and weight gained. I know it's possible it has to be, I've seen and heard too many success stories for it not to be, but for some reason I have trouble thinking that the same could happen for me. How do you gain a different perspective/positive outlook on something that you have always seen as a negative aspect of your life for so long?
So I sat down and weighed it out and these are my goals:
1. CHANGE MY DARN STINK'N THINKING!! (I can do this and weight loss is in reach!!)
2. RESEARCH HEALTHY RECEIPIES THAT BOTH MY HUSBAND AND I CAN ENJOY
3. START EVERY MEAL WITH A HEALTHY BREAKFAST
4. HAVE THREE HEALTHY MEALS A DAY/WITH 2 HEALTHY SNACKS IN BETWEEN
5. DO CARDIO AT LEAST 5 TIMES A WEEK/WEIGHT TRAINING 3 TIMES A WEEK
6. RESIST EMOTIONAL EATING
7. INCREASE DAILY WATER IN TAKE
8. CONSUME ALL MEALS BEFORE 8PM
9. CHART ALL FOOD AND FLUID INTAKE AND WORKOUTS IN A DAILY LOG
10. PRACTICING PATIENCE WITH MYSELF
Then I started to think... How I dare I blame any of my weight shortcomings on bad genes? I have so much to be thankful for due to the genes that were passed down to me. It's not always about changing what God gives you, but truly loving yourself in your own skin and if it needs improvement, IMPROVE IT. But until we as women make the conscious decision to do so and do it effectively we really have absolutely NO ONE TO BLAME but ourselves.
So I ask you to join me in this Amazing Journey, as I find the BetterME I hope that you may also find the BetterU. Together let's vow to give 110% in every effort to improve our health, our appearance, and restore the confidence that every women deserves to have.
Vow to exercise patience with ourselves realizing this is going to take time, and there IS NO QUICK FIX!! (I'm still learning this myself)
AND
To continue moving forward even on the days we may fall short, approaching everyday as new opportunity to have stronger will power and motivation to succeed than the day before.
All my life weight has been a struggle, but I am going in with a new attitude on life and a new attitude about myself. I am strong, determined, and fully capable of changing my life around for the better and I am excited to see just how much I can prove myself wrong... YES WEIGHTLOSS CAN HAPPEN TO ME TOO... Hello My Name is Dee!!