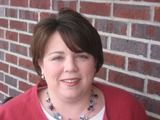 About a month before my friend handed me the
Star
article about the Better U challenge, I joined Weight Watchers. I was fed up with my weight, with the multitude of medicine bottles in my cabinet, with running out of breath any time I exerted just a little bit of energy.
My Weight Watchers journey has had plenty of ups and downs. Some weeks I'd have a good loss, some weeks a minor one, some weeks no loss at all -- or worse, a gain. By the time I met with Dr. Branyas in early December, three months after I started Weight Watchers, I'd lost a total of 8 pounds. Now, I'm not turning my nose up at 8 pounds by any means and I take full responsibility for the slow speed at which my weight loss was moving, but losing pounds at a glacial pace wasn't exactly inspiring.
One of the things
Dr. Branyas told me
was that I need to exercise...every day. Actually, she said plan to exercise daily. Sometimes things come up and the exercise doesn't happen. If you plan to work out 7 days a week, it's likely you'll at least make it 5. Plan to work out 3 days and soon enough you're only hitting the gym or the exercise videos once a week.
So I've been working out on my elliptical anywhere from 4 to 5 days a week and I recently dusted off the Wii Fit. I've also been walking the stairs at work -- up and down 5 times, for a total of 500 stairs. And do you know what? I've been losing weight more consistently. For probably the first time in years, I actually lost weight over the holidays.
When I went to my Weight Watchers meeting yesterday (Melissa Wrin, the registered dietitian at the
St. Vincent Heart Center of Indiana
said if WW works for me and I like it, to keep it up), I stepped on the scale and I was in NEW NUMBERS!
In fact, since my meeting with Dr. Branyas and my commitment to exercising just one month ago, I've lost 8 pounds -- the same amount it took me 3 months to lose without exercising.
While I may not love working out yet, I am a believer.