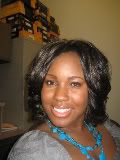 Hello Ladies!!
It's been a bit of a roller coaster... I must say, BUT I'm still here and still truck-in (lol)...
While I have also been guilty of falling off the wagon.. I've been able to regroup and get back on and pick up right where I left off..
OKAY!!.. SO MY THING IS.. I ALWAYS SEEM TO FALL OFF THE WAGON WHEN "AUNT FLOW COMES TO VISIT"!!!!!
I can't stand it, I HATE IT, but it NEVER seems to FAIL!! I get in the mode of "what I want is what I want" and I Eat It... (lol), My body gets achy, I get moody, and if it's not making me happy at that moment I'm not doing it...
I'm sure you all can all relate, In the meantime I have finally had my assessment appointment last Wed with my personal trainer Kara. I went in feeling really good about it and was excited to get guidance on what I could do to physically transform my body.
It went pretty well actually... I did a lot better than I thought I would, and was rather surprise at how my body has been responding to my workouts. Today I had my first real personal training session, and it really helped me understand getting the most out of my workouts.
I was shot by the time the hour workout was done, but it was well worth it. On another note, every day I have been charting what I'm eating, what time I ate it, and what I did to work out that day.. And boy has it been helpful!! I am a very visual person so it helps to be able to look back and see how I felt, what I ate, and my progression in my workout status.
FYI... I ran on the treadmill yesterday and was able to get my 2mile run in less than 30min.
I COMPLETED MY TWO MILE RUN IN 27.35 minutes!!
So I'm really excited because I also increased my speed, and I can really tell I'm improving.. and my husband even noticed while we were running together and commented on that I am improving too... so that really felt good.

Well since I have my road map to success after meeting with the personal trainer for my first actual workout session, I'm expecting great things... I'll be keeping ya posted!! ;)
P.S. I plan to do a lot better when that "special" time comes along... I refuse to let it be the DEATH OF ME!!

CHEERS!!